Cleanroom
In controlled environments, Estatec's advanced uniform solutions uphold the pillars of safety, cleanliness, and efficiency. Our products provide a robust defense against particulates, aerosol particles, microbes, and chemical vapors. Engineered with dissipation and electrostatic induction mitigation properties, they are essential across diverse sectors such as electronics, pharmaceuticals, and biotechnology.
Estatec is dedicated to fabric innovation
And is pleased to introduce three exceptional fabric types that redefine cleanroom excellence:
CleanStat AD Cleanroom Fabric
Our CleanStat AD cleanroom fabric features cutting-edge particle filtration technology. Its intricate weave structure serves as a robust barrier, capturing airborne particles with precision. It is tailored for environments demanding the utmost cleanliness standards, such as electronics manufacturing and advanced biotech research.
CleanStat HD Fabric
Our CleanStat HD fabrics offer unparalleled defense against contaminants with their high-density weave. The tightly woven structure effectively thwarts particulate intrusion and minimizes particle release. These fabrics align seamlessly with industries prioritizing microscopic cleanliness.
Micro Denier Sandwash Fabric
The Micro Denier Sandwash fabric is a fusion of luxury and high-performance attributes. Recognized for its exceptional softness and comfort, it elevates the comfort quotient while consistently upholding rigorous cleanroom standards. When integrated into our inner garments, it enriches the operator experience while ensuring optimum protection against particles and electrostatic fields.
As a manufacturer, Estatec offers a wide variety of cleanroom products
to address the unique requirements of controlled environments:
Shoe covers
Our shoe covers are engineered exclusively for controlled areas and provide anti-slip traction and full coverage options. These covers harmonize seamlessly with our dissipative coveralls.
Cleanroom coveralls
Our dissipative coveralls provide full coverage for the operator's entire body, managing particle ingress in controlled environments. Industries prioritizing uncompromising cleanliness, such as microelectronics, benefit significantly from these coveralls.
Inner Garments
Our dissipative inner garments are crafted with luxurious Micro Denier Sandwash fabric. When coupled with our dissipative coveralls, this fabric combination forms a dual defense against particles and electrostatic fields.
Laboratory Coats
Our dissipative laboratory coats provide a barrier against chemical substances and prevent particle generation and electrostatic field formation through effective electrostatic charge dissipation.
Hoods and Face Covers
Available in closed or open-face designs, our hoods provide essential head protection. Adaptable to adapted or disposable masks, these hoods ensure comfort, safety, and minimal particle dispersion
Aligned with our steadfast dedication to excellence, Estatec sets benchmarks for innovation and precision. Join us in shaping the future of cleanroom excellence.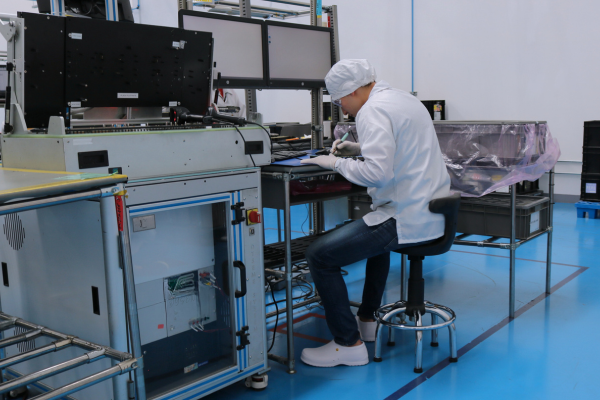 Contact us if you require a larger purchase