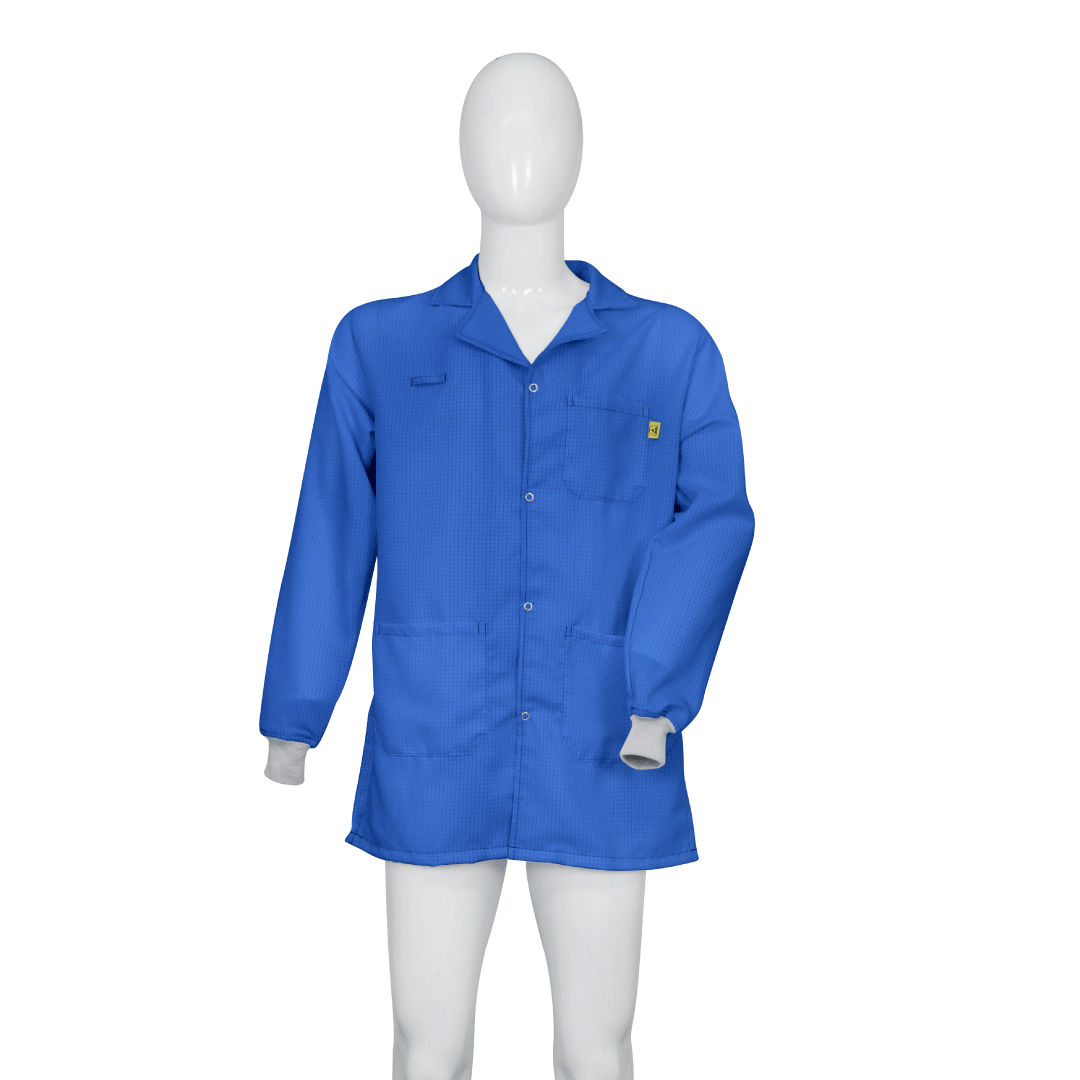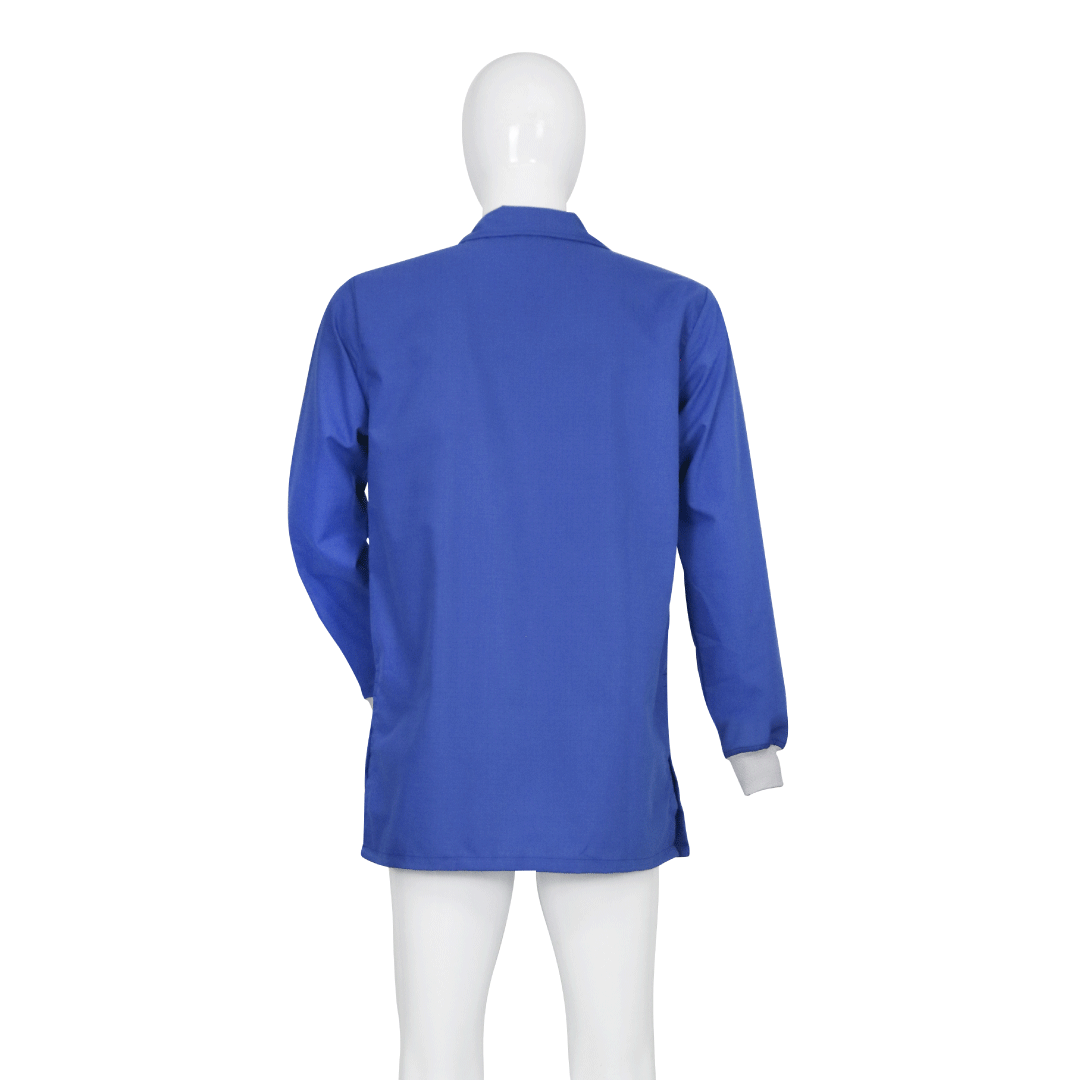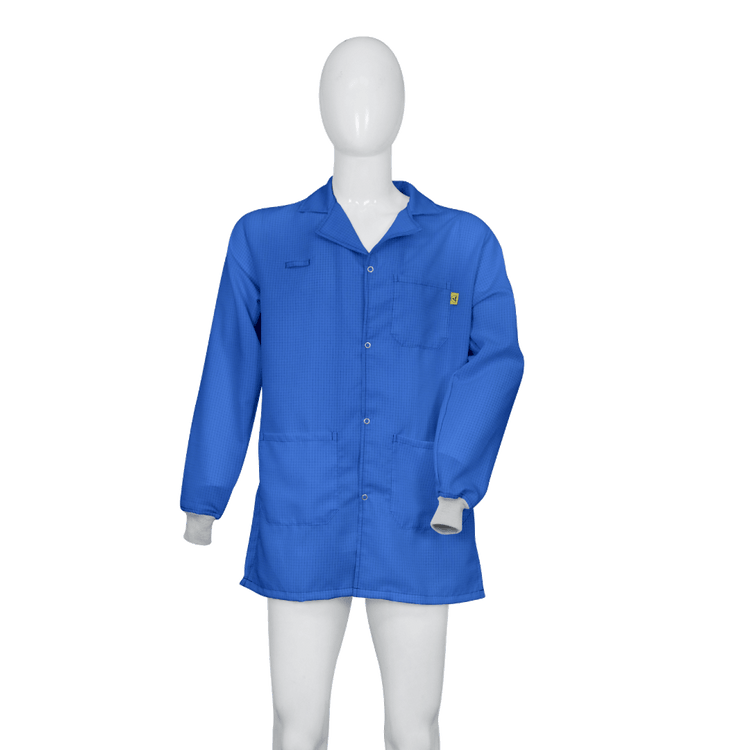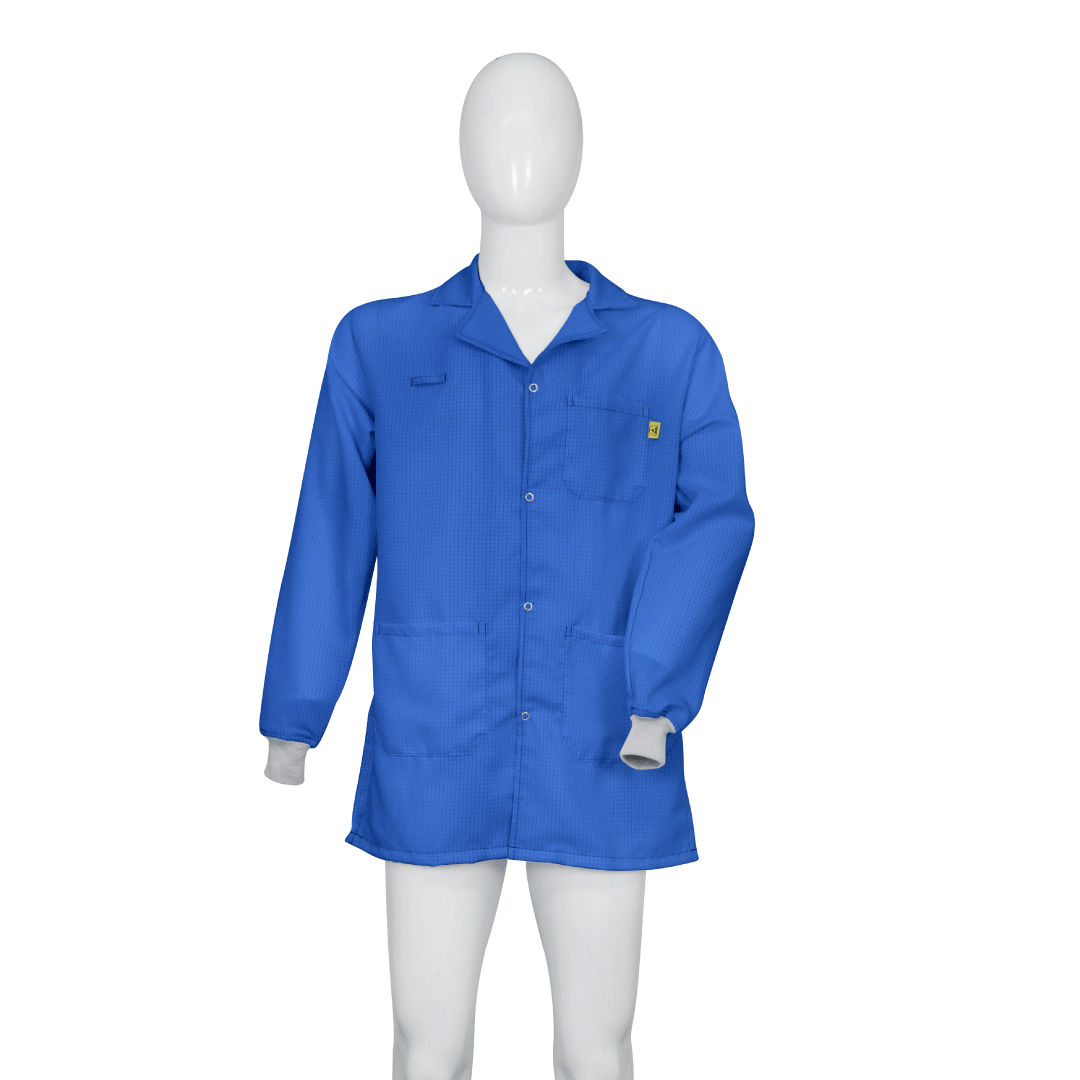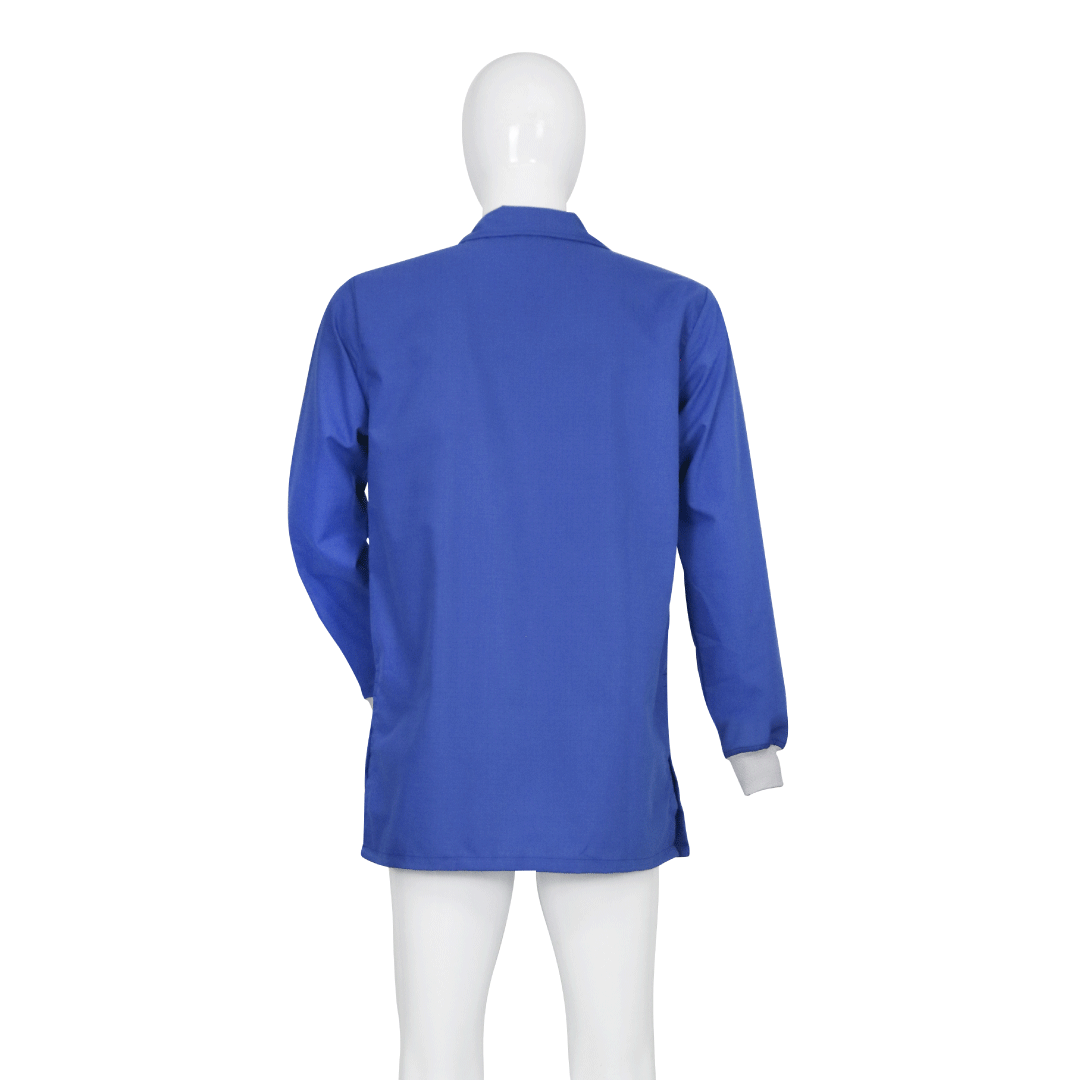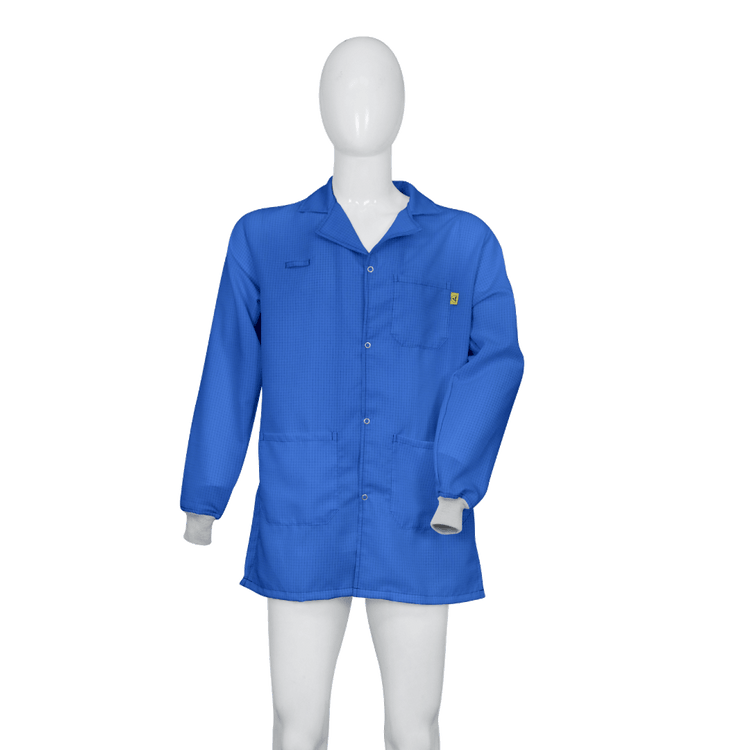 About
The TecStat PA Grounding smock has conductive cuffs and a conductive grounding system, when the cable is connected to ground, the smock drains all static generated. The TecStat PA smock is made of 66 % polyester, 32 % cotton and 2% carbon fiber. Insulates the electrostatic fields generated by the friction of the human body and materials that make up the clothing.

All Estatec smocks meet the requirement for Static Control Garment per ANSI/ESD S20.20 and ESD TR53.

> Features:
• Traceability through bar code
• Stock Item, ships in less than 2-3 days
• Chest pocket, 2 side pockets, snap front and wrists
• Protection up to 10E9 ohms even after 50 washings
• Wide variety of colors
• Grounding system on both sides
• Outstanding ESD properties
• Conductive cuffs
• Cables are sold separately

The TecStat PA Grounding smock has conductive cuffs and a conductive grounding system, when the cable is connected to ground, the smock drains all static generated. The TecStat PA smock is made of 66 % polyester, 32 % cotton and 2% carbon fiber. Insulates the electrostatic fields generated by the friction of the human body and materials that make up the clothing.

All Estatec smocks meet the requirement for Static Control Garment per ANSI/ESD S20.20 and ESD TR53.

> Features:
• Traceability through bar code
• Stock Item, ships in less than 2-3 days
• Chest pocket, 2 side pockets, snap front and wrists
• Protection up to 10E9 ohms even after 50 washings
• Wide variety of colors
• Grounding system on both sides
• Outstanding ESD properties
• Conductive cuffs
• Cables are sold separately

Grounding ESD Smock Thigh Length TecStat PA
Sale price

$41.92

Regular price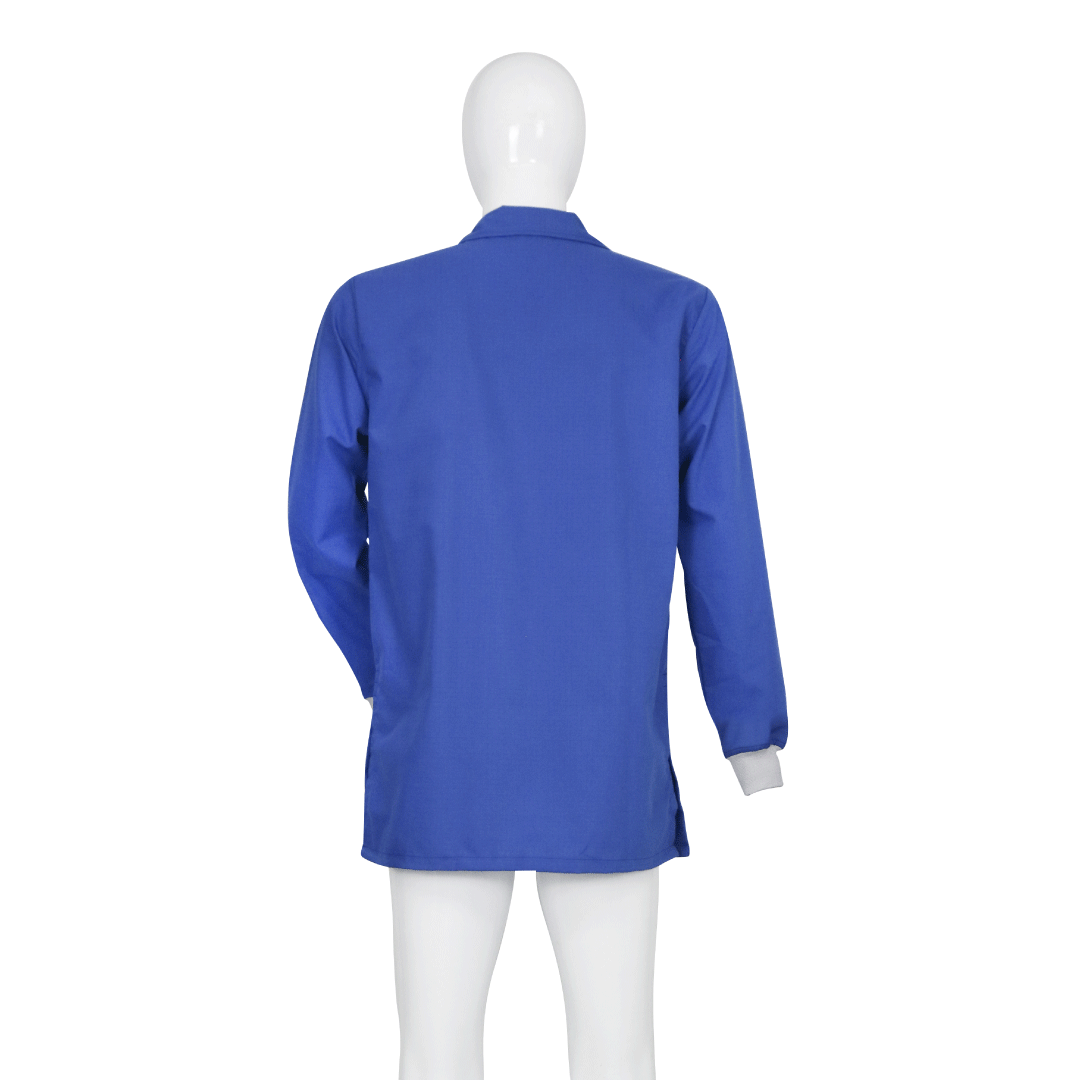 Check Out These Related Products
1
Return and Refund Policy
Our return policy allows 30 days for returns after receiving an item. To qualify, items must be in original, unworn condition with tags and packaging, and a receipt is necessary. Contact info@estatec.com to start a return. Returns incur a $15 shipping fee and a 3% restocking fee. Damaged or incorrect items should be reported upon receipt. Custom, hazardous, or sale items cannot be returned. For exchanges, return the original item and make a separate purchase. European Union customers have a 14-day cooling-off period. Refunds, minus a 3% restocking fee, are processed within 10 business days, but bank processing times may apply. Contact info@estatec.com after 15 business days for refund issues.
For more detailed information estatec.us/policies/refund-policy
Last updated September 04, 2023
This privacy notice for Estatec LLC (doing business as Estatec) ("we," "us," or "our"), describes how and why we might collect, store, use, and/or share ("process") your information when you use our services ("Services"), such as when you:
Visit our website at http://www.estatec.us, or any website of ours that links to this privacy notice
Engage with us in other related ways, including any sales, marketing, or events
Questions or concerns? Reading this privacy notice will help you understand your privacy rights and choices. If you do not agree with our policies and practices, please do not use our Services. If you still have any questions or concerns, please contact us at info@estatec.us.
SUMMARY OF KEY POINTS
This summary provides key points from our privacy notice, but you can find out more details about any of these topics by clicking the link following each key point or by using our table of contents below to find the section you are looking for.
What personal information do we process? When you visit, use, or navigate our Services, we may process personal information depending on how you interact with us and the Services, the choices you make, and the products and features you use. Learn more about personal information you disclose to us.
Do we process any sensitive personal information? We do not process sensitive personal information.
Do we receive any information from third parties? We do not receive any information from third parties.
How do we process your information? We process your information to provide, improve, and administer our Services, communicate with you, for security and fraud prevention, and to comply with law. We may also process your information for other purposes with your consent. We process your information only when we have a valid legal reason to do so. Learn more about how we process your information.
In what situations and with which parties do we share personal information? We may share information in specific situations and with specific third parties. Learn more about when and with whom we share your personal information.
How do we keep your information safe? We have organizational and technical processes and procedures in place to protect your personal information. However, no electronic transmission over the internet or information storage technology can be guaranteed to be 100% secure, so we cannot promise or guarantee that hackers, cybercriminals, or other unauthorized third parties will not be able to defeat our security and improperly collect, access, steal, or modify your information. Learn more about how we keep your information safe.
What are your rights? Depending on where you are located geographically, the applicable privacy law may mean you have certain rights regarding your personal information. Learn more about your privacy rights.
How do you exercise your rights? The easiest way to exercise your rights is by submitting a data subject access request, or by contacting us. We will consider and act upon any request in accordance with applicable data protection laws.
Want to learn more about what we do with any information we collect? Review the privacy notice in full.
TABLE OF CONTENTS
WHAT INFORMATION DO WE COLLECT?
HOW DO WE PROCESS YOUR INFORMATION?
WHAT LEGAL BASES DO WE RELY ON TO PROCESS YOUR PERSONAL INFORMATION?
WHEN AND WITH WHOM DO WE SHARE YOUR PERSONAL INFORMATION?
DO WE USE COOKIES AND OTHER TRACKING TECHNOLOGIES?
HOW LONG DO WE KEEP YOUR INFORMATION?
HOW DO WE KEEP YOUR INFORMATION SAFE?
DO WE COLLECT INFORMATION FROM MINORS?
WHAT ARE YOUR PRIVACY RIGHTS?
CONTROLS FOR DO-NOT-TRACK FEATURES
DO CALIFORNIA RESIDENTS HAVE SPECIFIC PRIVACY RIGHTS?
DO VIRGINIA RESIDENTS HAVE SPECIFIC PRIVACY RIGHTS?
DO WE MAKE UPDATES TO THIS NOTICE?
HOW CAN YOU CONTACT US ABOUT THIS NOTICE?
HOW CAN YOU REVIEW, UPDATE, OR DELETE THE DATA WE COLLECT FROM YOU?
For more detailed information estatec.us/policies/privacy-policy
info@estatec.com
+1 619 934 8759
Or visit us at:
8175 Saint Andrews Ave
San Diego, CA 92154
OVERVIEW
This website is operated by Estatec. Throughout the site, the terms "we", "us" and "our" refer to Estatec. Estatec offers this website, including all information, tools and Services available from this site to you, the user, conditioned upon your acceptance of all terms, conditions, policies and notices stated here.
By visiting our site and/ or purchasing something from us, you engage in our "Service" and agree to be bound by the following terms and conditions ("Terms of Service", "Terms"), including those additional terms and conditions and policies referenced herein and/or available by hyperlink. These Terms of Service apply to all users of the site, including without limitation users who are browsers, vendors, customers, merchants, and/ or contributors of content.
Please read these Terms of Service carefully before accessing or using our website. By accessing or using any part of the site, you agree to be bound by these Terms of Service. If you do not agree to all the terms and conditions of this agreement, then you may not access the website or use any Services. If these Terms of Service are considered an offer, acceptance is expressly limited to these Terms of Service.
Any new features or tools which are added to the current store shall also be subject to the Terms of Service. You can review the most current version of the Terms of Service at any time on this page. We reserve the right to update, change or replace any part of these Terms of Service by posting updates and/or changes to our website. It is your responsibility to check this page periodically for changes. Your continued use of or access to the website following the posting of any changes constitutes acceptance of those changes.
Our store is hosted on Shopify Inc. They provide us with the online e-commerce platform that allows us to sell our products and Services to you.
SECTION 1 - ONLINE STORE TERMS
SECTION 2 - GENERAL CONDITIONS
SECTION 3 - ACCURACY, COMPLETENESS AND TIMELINESS OF INFORMATION
SECTION 4 - MODIFICATIONS TO THE SERVICE AND PRICES
SECTION 5 - PRODUCTS OR SERVICES (if applicable)
SECTION 6 - ACCURACY OF BILLING AND ACCOUNT INFORMATION
SECTION 7 - OPTIONAL TOOLS
SECTION 8 - THIRD-PARTY LINKS
SECTION 9 - USER COMMENTS, FEEDBACK AND OTHER SUBMISSIONS
SECTION 10 - PERSONAL INFORMATION
SECTION 11 - ERRORS, INACCURACIES AND OMISSIONS
SECTION 12 - PROHIBITED USES
SECTION 13 - DISCLAIMER OF WARRANTIES; LIMITATION OF LIABILITY
SECTION 14 - INDEMNIFICATION
SECTION 15 - SEVERABILITY
SECTION 16 - TERMINATION
SECTION 17 - ENTIRE AGREEMENT
SECTION 18 - GOVERNING LAW
SECTION 19 - CHANGES TO TERMS OF SERVICE
SECTION 20 - CONTACT INFORMATION
Questions about the Terms of Service should be sent to us at info@estatec.us.
Our contact information is posted below:
ESTATEC LLC
info@estatec.com
8175 Saint Andrews Ave, San Diego, CA 92154
+1 (610) 934 8759
For more detailed information estatec.us/policies/terms-of-service.
Last updated September 20, 2023
Thank you for shopping with Estatec LLC. We want to ensure your shopping experience is as seamless as possible, including our shipping services. Please take a moment to review our shipping policy below.
SHIPPING METHODS
We offer several shipping options for your convenience. The available shipping methods and estimated delivery times are provided during the checkout process. Please note that delivery times may vary depending on your location and the shipping option you select.
SHIPPING RATES
Shipping rates are calculated based on the weight and dimensions of your order, as well as your chosen shipping method. You will see the shipping cost clearly displayed during the checkout process before you complete your purchase.
ORDER PROCESSING
We strive to process and ship orders as quickly as possible. Orders are typically processed within one to three business days from the date of purchase. Please allow additional processing time for custom or personalized products, made-to-order items, and special order products.
SHIPPING DESTINATIONS
Currently, we ship to addresses within the United States. We do not offer international shipping at this time.
TRACKING YOUR ORDER
Once your order has been shipped, you will receive a shipping confirmation email that includes a tracking number. You can use this tracking number to monitor the progress of your shipment and estimate the delivery date.
If you encounter any problems with the tracking information, please contact us at info@estatec.com
SHIPPING DAMAGES
If your order arrives damaged, please contact our customer service team immediately at +1 619 934 8759 or info@estatec.com. We will work with you to resolve the issue promptly.
Please refer to our Written return and refund policy for more details.
RETURNS
For information on our return policy, refer to our written return and refund policy or visit:
https://estatec.us/policies/refund-policy
QUESTIONS
If you have any questions or concerns about our shipping policy, please do not hesitate to contact us:
Phone: +1 619 934 8759 
Email: info@estatec.com
We value your business and aim to provide you with the best possible shopping experience. Thank you for choosing Estatec LLC.